In a 2010 episode of Parks and Recreation, Leslie Knope—a poetic and noble land-mermaid—gave us Galentine's Day. It's an unofficial holiday that takes place on February 13th, when women ditch their significant others and kick it with their gal pals over brunch. Ladies celebrating ladies.
via GIPHY
If you're too busy dismantling the patriarchy to needlepoint your friends' faces onto pillows, then you might consider gifting one of these feminist books instead. These beautifully illustrated gift books range from brief histories of radical women to pocket-size manifestos to feminist activity books, all designed to help you celebrate the women in your life and around the world.
Feminist Books to Gift on Galentine's Day
The Little Book of Feminist Saints by Julia Pierpont, illustrated by Manjit Thapp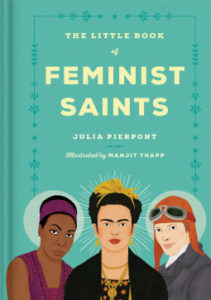 This petite tome is a great primer of 100 feminist "saints" from around the world. Each is given a title that encapsulates her legacy, such as Josephine Baker, Matron Saint of the Independent; Kanno Sugako, Matron Saint of Radicals; and the Brontë sisters, Matron Saints of Dreamers. Each stunning portrait is accompanied by memorable anecdotes from the lives of these women that both educate readers and inspire them to learn more.
Dear Ijeawele, or A Feminist Manifesto in Fifteen Suggestions
by Chimamanda Ngozi Adichie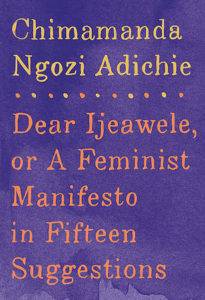 One of Chimamanda Ngozi Adichie's friends once asked her for advice on raising her daughter to be a feminist. She wrote this essay in response. Her 15 suggestions provide a straightforward overview of feminist ideals and helpful ways to instill them in the next generation. One of the suggestions is to impart a love of books and reading, because "Books will help her understand and question the world, help her express herself, and help her in whatever she wants to become." At just 80 pages, which of your Galentines doesn't need this handy pocket-sized feminist manifesto?
Women in Science: 50 Fearless Pioneers Who Changed the World by Rachel Ignotofsky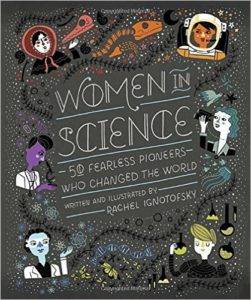 This feminist book celebrates the many contributions women have made to the world of STEM. Flip to any page to learn more about a woman you may know—like Marie Curie, physicist and chemist—or one you may not—like Patricia Bath, ophthalmologist and inventor. Rachel Ignotofsky's distinctive illustrations and color palettes help make these women's accomplishments even more striking.
Modern HERstory: Stories of Women and Nonbinary People Rewriting History by Blair Imani, illustrated by Monique Le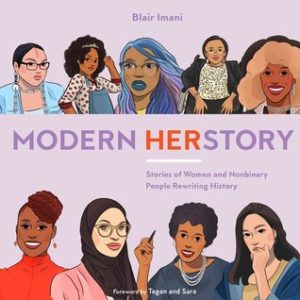 In Modern HERstory, activist Blair Imani profiles the women and nonbinary individuals whose contributions to social change have been overlooked or understated. This intersectional feminist book reclaims the narrative for diverse revolutionaries from recent history. Monique Le's bold illustrations accompany brief biographies of individuals like transgender rights activist Kat Blaque and Olympic fencer Ibtihaj Muhammad.
Legendary Ladies: 50 Goddesses to Empower and Inspire You by Ann Shen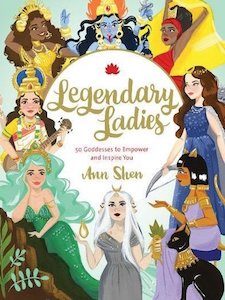 Ann Shen's Legendary Ladies gives the "incredible women you should know" treatment to mythological goddesses. She explores the foundational role folklore plays in shaping society, bringing to light the powerful feminine figures who are "often the force of life itself." Watercolor illustrations accompany profiles of these fabled women, ranging from Aphrodite, the Greek goddess who defied mortality, to Mazu, a Chinese goddess who provides protection for travelers.
via GIPHY
Feminist Activity Books / Feminist Coloring Books
Boss Babes: A Coloring and Activity Book for Grown-Ups by Michelle Volansky
This feminist activity book features coloring pages for dozens of inspiring women. Each portrait is accompanied by an activity: complete a Beyoncé crossword puzzle, use Mad Libs to help Tina Fey write an episode of 30 Rock, and spot the difference between the two pictures of Amy Winehouse. The back of the book provides a mini biography of each woman featured—from Misty Copeland to Malala Yousafzai—explaining why she's a boss babe.
Feminist Activity Book by Gemma Correll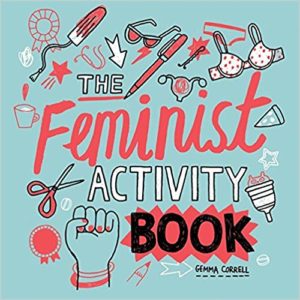 Illustrator Gemma Correll's charming style of art takes on taboo in this feminist gift book. On a page full of illustrated menstrual products, she encourages readers to "Screw the euphemistic blue liquid in commercials" and go at it with a red pen. Other coloring pages and activities include social media bingo for sexist comments, a map of feminist waves, and a feminist book club reading list (complete with space for writing reviews).
Feminist Icon Cross-Stitch: 30 Daring Designs to Celebrate Strong Women by Anna Fleiss and Lauren Mancuso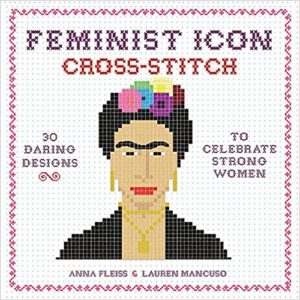 If you're feeling inspired by Leslie Knope's needlepoint genius, give the gift of feminist crafting with this collection of 30 cross-stitch patterns of feminist icons. From Cleopatra to Frida Kahlo to Hillary Rodham Clinton, each design is accompanied by a brief biography of the woman so you can meditate on her awesomeness as you sew her likeness. The book includes introductions on both the art of cross-stitching and modern feminism, so it's perfect for beginners of all kinds.
via GIPHY
Funny Feminist Books to Gift
New Erotica for Feminists: Satirical Fantasies of Love, Lust, and Equal Pay  by Caitlin Kunkel, Brooke Preston, Fiona Taylor, and Carrie Wittmer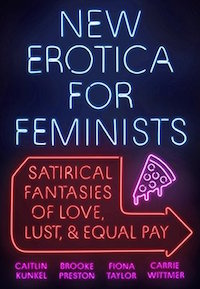 "He calls me into his office and closes the door… to promote me. He promotes me again and again. I am wild with ecstasy." These comedic shorts take tropes from erotic literature and give them a satirical twist based on the things women really want, like a respectful workplace, a gender-balanced congress, and a Tinder date who invented a serum that will make Ruth Bader Ginsburg live forever. It features a whole section rewriting classic literature to have feminist endings. In their version, 13-year-old Juliet rejects Romeo's aggressive advances, "exits stage left and lives to be ninety-eight years old."
How to Be Successful Without Hurting Men's Feelings: Non-Threatening Leadership Strategies for Women by Sarah Cooper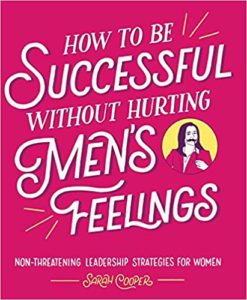 This satirical guide is for your friends who are Just Done™ with the men in their workplace and need to laugh a little so they don't cry. Chapters include "Communication: How to Talk Like a Man but Still Be Seen as a Woman," "Authenticity: How to Bring Your True Self to Work and Then Hide It Completely," and even "A Few Blank Pages to Doodle on When Men Are Explaining Things." In the back, you'll also find achievement stickers you can give male colleagues for taking steps to create a less sexist workplace. These include "Stopped Myself While Explaining Something I Didn't Understand" and "Didn't Refer to Watching My Kids as 'Babysitting.'"
via GIPHY
Feminist Photo Books
Why I March: Images from the Women's March Around the World by Abrams Books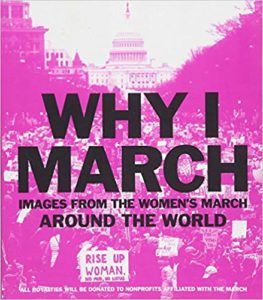 This feminist photo book commemorates the first Women's March. The event took place on January 21, 2017, in 82 countries with five million participants. These powerful images capture the spirit of protest and the iconic signs that went with it at marches on all seven continents. The book is not just a powerful reminder but also an active part of the movement, as royalties are donated to nonprofits such as the National Latina Institute for Reproductive Health, the Transgender Law Center, and the Council on American-Islamic Relations.
The Atlas of Beauty: Women of the World in 500 Portraits by Mihaela Noroc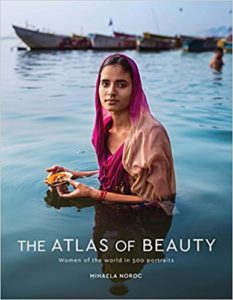 Photographer Mihaela Noroc traveled the world documenting women in their communities. The result is a striking collection of images that capture the diversity of beauty in women of all ages, colors, and cultures. The Atlas of Beauty is a striking reminder of our shared humanity and strength with women around the world.
Strong Is the New Pretty: A Celebration of Girls Being Themselves by Kate T. Parker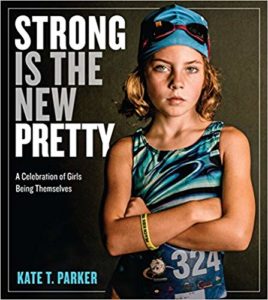 This photo book is a celebration of the energy, confidence, and determination of young girls. The images capture their ambition and their strength in the face of adversity. Next to the portraits you'll find inspiring quotes from the girls about their accomplishments or their encouragement to others. "Strong girls never lose," says Kylie, age 12. "They only learn, and come back stronger."
via GIPHY
As you prepare for an epic Galentine's Day gathering full of feminist books and friends, be sure to also check out:
40+ Empowering Feminist Quotes (if you need help deciding what to cross-stitch on a pillow)
13 Fabulous Feminist Audiobooks (to listen to while you prepare the waffles, obviously)
Our Favorite Literary Female Friendships (a good conversation starter at your Galentine's Day gathering)